Biosis Healing SIS biomaterials research results included in top journals again
by
During the National Day holiday, the movie "the Battle at Lake Changjin" brings us back to the history 71 years ago. Our ancestors have finished all the battles that should be fought. What we can do is to work hard in our respective positions and continue to fight for the motherland's technological innovation and technological self-improvement.
The holiday has just ended, Biosis Healing has another good news. Top international interdisciplinary journals in the field of materials science "Advanced Healthcare Materials" titled "Small Intestinal Submucosa Membrane Modified by Fusion Peptide-Mediated Extracellular Vesicles to Promote Tissue Regeneration", published the full text in Biosis Healing's independent intellectual property research results in the field of SIS biomaterials, the journal's impact factor is as high as 9.933.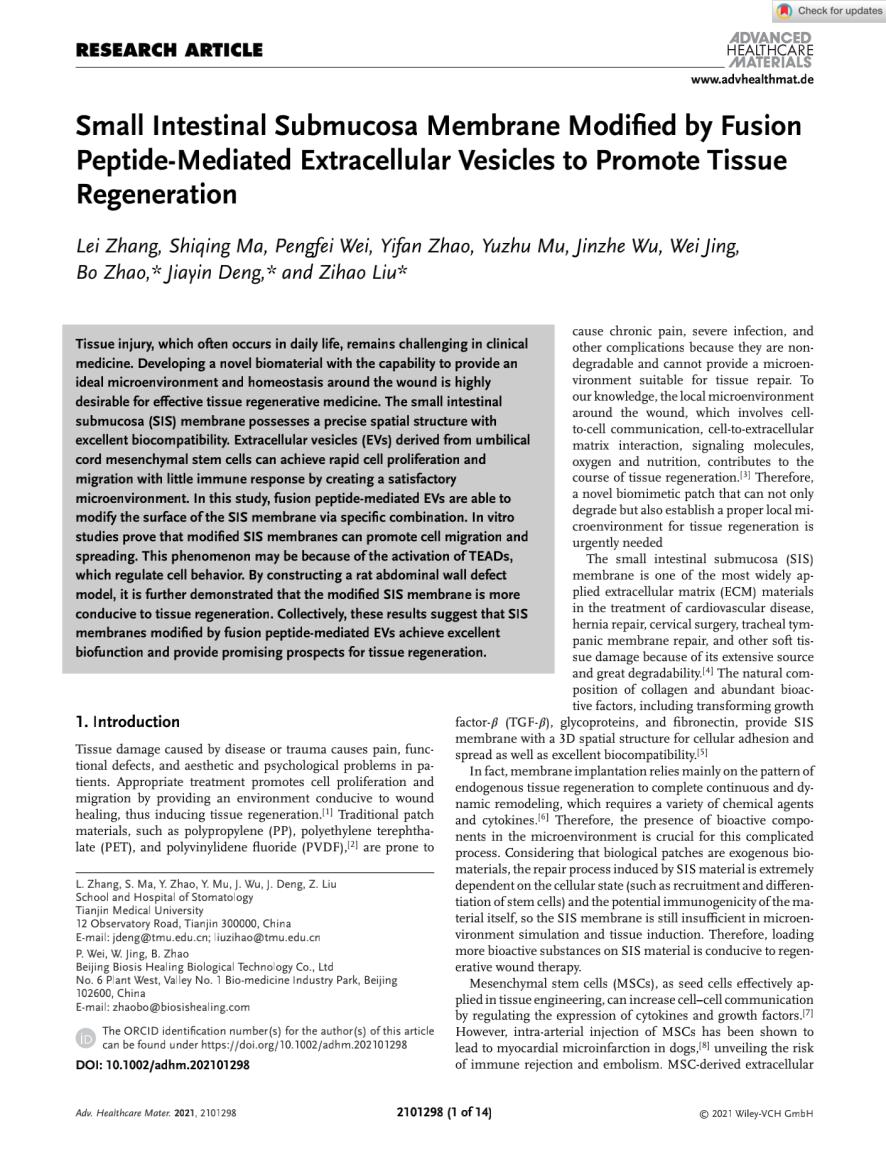 This research was completed by the team of Professor Zhao Bo, Dr. Wei Pengfei from Biosis Healing, and the team of Professor Deng Jiayin and Dr. Liu Zihao from School and Hospital of Stomatology Tianjin Medical University. The main research object is the SIS biological material with independent intellectual property rights of Biosis Healing.
Biosis Healing SIS biomaterials, using porcine submucosal matrix materials as raw materials, non-crosslinking process production, retaining natural bioactive ingredients, good biocompatibility, preventing tissue adhesion and resistance to infection, after implantation in the body, it can take the initiative Induce tissue regeneration, and complete degradation as the tissue regeneration. It can be applied to repair almost all soft tissues of the whole body including neurosurgery, otology, rotator cuff, abdominal wall surgery, anorectal surgery, etc. Data from completed animal experiments and clinical experiments confirmed that the SIS material has a significant repair effect on many soft tissues throughout the body.
Based on the SIS membrane, this research uses fusion peptide technology to link independent functional peptides together to form a new peptide chain with multiple functions. Previous studies have reported that by constructing fusion peptides, the binding force to collagen materials and the angiogenic activity of hepatocyte growth factor (HGF) can be enhanced. Due to their low molecular weight and low cytotoxicity, fusion peptides are almost impossible to cause innate immune responses and have high bioavailability. CP05 is a small molecule peptide that can specifically bind to CD63, which is a tetrameric protein that is usually enriched on the surface of extracellular vesicles. Considering that the main components of SIS membrane are type I and type III collagen, this study used two collagen-binding peptides (LHERHLNNN and KELNLVY) that can anchor biomolecules on the surface of type I and type III collagen, respectively. By designing a series of fusion peptides, linking LHERHLNNN and KELNLVY with CP05, using or not using flexible connecting peptides (GGGGS) to achieve a specific combination and affinity loading of extracellular vesicles on the SIS membrane. This modification gives SIS membrane better tissue regeneration effect.
In this study, the surface of the SIS membrane was modified by using extracellular vesicles modified by the fusion peptide to construct a rat abdominal wall defect model, and the modified SIS membrane was applied to the rat abdominal wall defect. In vitro experiments in rats have proved that the modified SIS membrane can promote cell migration and diffusion, is more conducive to tissue regeneration, and provides a solid theoretical foundation and broad application prospects for tissue regeneration.
At present, based on SIS material technology, Biosis Healing has led the development of more than 10 in vivo implant products based on clinical needs. SIS materials hernia graft, anal fistula plug and dura repair mesh have obtained the China National Medical Products Administration Class III medical device registration certificate, and have been marketed and widely used in clinical practice, which allows patients to use the biological products of SIS materials produced by Chinese, and greatly reduces the surgical expenses of patients. In addition, Biosis Healing anastomotic reinforcement mesh, oral repair mesh and other SIS biomaterial products will be also obtained the certificates soon. In February 2021, Biosis Healing hernia graft product received the EU CE certificate of the first animal origin mesh product in China. In May 2021, the first order in Europe was officially launched in the European market, realizing clinical application in European hospitals. This marks that China's SIS material biological mesh has stood on the international stage, with the strength to compete with international brands.
The research results of SIS materials have been published in top international journals successively.It also shows that our research in the field of SIS biomaterials has been recognized by more and more international authoritative academic institutions. Biosis Healing wiil insisted on solving the key common problems and cutting-edge core technologies of SIS biomaterials, with a view to benefiting more patients.
[Periodical Introduction]
"Advanced Healthcare Materials", Core category SCI journals, IF Impact Factor 9.933. The main research directions are: Chemical Science, Engineering and Materials, Biomedical Polymer Materials, Organic Polymer Materials, Surface Science and Engineering of Metal Materials, Analytical Chemistry, Inorganic Chemistry, Polymer Science, Inorganic Nanochemistry, Polymer Synthetic Chemistry, Life Science, Biomechanics and Tissue Engineering, Tissue Engineering; Organic Molecular Functional Material Chemistry; Metal Materials; Organic Chemistry; Medical Science; Imaging Medicine and Biomedical Engineering; Cell Transplantation, Tissue Regeneration and Bioreactors; Biochemical Analysis and Biosensing.
[Introduction of author]
Zhao Bo
Biosis Healing founder, doctor of surgery
Professor-level senior engineer/ associate chief physician/ graduate supervisor/ postdoctoral supervisor
As the main completion and project leader, he has undertaken and completed four projects of National Natural Science Foundation of China, Beijing Natural Science Foundation and many scientific research projects.
Deng Jiayin
Doctor of Stomatology, Professor, Doctoral Supervisor
Deputy Secretary of the Party Committee and Deputy Dean of School and Hospital of Stomatology Tianjin Medical University
Member of the Standing Committee of the Professional Committee of Stomatology Education of the Chinese Stomatology Association, Member of the Standing Committee of the Stomatology Branch of the Chinese Medical Doctor Association, Member of the Periodontology Specialty Committee of the Chinese Stomatology Association, Standing Director of the Tianjin Stomatology Association, Vice chairman of the Periodontology Specialty Committee of the Tianjin Stomatology Association, Academician of the International College of Dentists. 2 second prizes of Tianjin Science and Technology Progress Award, 1 first prize and 1 second prize of Tianjin Teaching Achievement Award, and 2 new medical and health technology blank projects in Tianjin.
Liu Zihao
Doctor of Stomatology, Attending Doctor, Lecturer
Youth committee of the Professional Committee of Stomatology Education of the Chinese Stomatology Association
131 Third-level Talents in Tianjin
Award Tianjin Education Commission fund, Health Commission fund
Award The second prize of Tianjin Scientific and Technological Progress in 2020
Wei Pengfei
Beijing Biosis Healing Biotechnology Co., Ltd. Post-doctoral
Doctor of Biomedical Materials, Beijing University of Chemical Technology
He was supported by the 68th batch of China Postdoctoral Science Foundation
2020 Annual Postdoctoral International Exchange Program Academic Exchange Project
For more information, please scan the QR code below: