Congratulations on the official launch of the reconstruction and expansion project of Biosis Healing Industrial Park
by
Walking into the Biosis Healing Industrial Park at No. 29 Yongda Road, Daxing District Bio-pharmaceutical Industrial Base, you can see golden persimmons full of branches in the park. Today is a good day for Biosis Healing.
At 11:08 am on October 28th, the commencement ceremony of the reconstruction and extension project of Biosis Healing Industrial Park officially started, under the announcement of the host, Lun Xinyi, HRVP of Biosis Healing. Chairman Zhao Bo, Chief Marketing Officer Li Xuejun, Senior Vice President Zhang Jinhui, Construction Manager Luo Jian, and Biosis Healing's employee representatives and construction team representatives totaling more than 80 people attended the ceremony, witnessed the highlight moment of the official launch of the Industrial Park reconstruction and extension project.
In his speech, Chairmen Zhao Bo reviewed the development history of Biosis Healing: In 2012, Biosis Healing was established in Medicine Valley No.1, starting from a few small offices of less than 100 square meters, and later, it developed into an office building of several thousand square meters. Today, 9 years later, Biosis Healing finally has our own industrial park. This process is very tortuous and long, but the facts have proved that Biosis Healing has always been on the right path.
In his speech, Chairmen Zhao Bo thanked all the friends who have supported Biosis Healing. He excitedly said: "starting a business is a difficult thing. It is the governments at all levels, partners and colleagues who have jointly achieved the cause and brand of Biosis Healing, and endowed us with courage and faith, and encouraged us to pursue better constantly. Today, I also want to proudly tell you: Biosis Healing has been working hard and has not disappointed everyone's trust.
In his speech, Senior Vice President Zhang Jinhui introduced: Biosis Healing Industrial Park, covering an area of more than 20 acres, was officially purchased in 2020. The enterprise has its own industrial park, which is of great significance to all employees. People often say "living and working in peace and contentment". The purchase of Biosis Healing Industrial Park not only means that Biosis Healing has a firmer development "foundation" and reliable guarantee, but also a new driving force and a new starting point for our career development.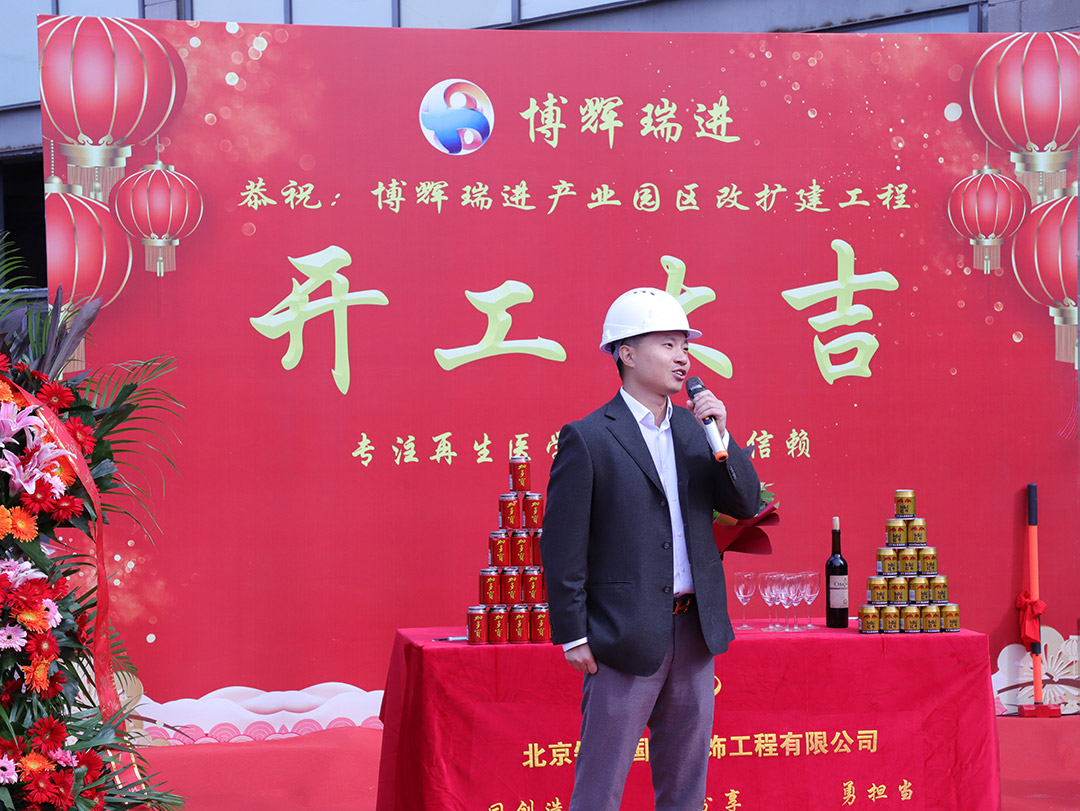 In his speech, Chief Marketing Officer Li Xuejun emphatically pointed out: This ceremony is an important milestone. This not only represents the expansion of the company scale, but also an important part of accelerating the strategic upgrade of Biosis Healing. After the completion of the new park, we will carry out large-scale production, intelligent management, and systematic services here. The new park will also lay a good foundation for the future development of new products and the extension of the industrial chain, and provide the most powerful guarantee for product delivery and market expansion. All Biosis Healing colleagues will also experience a more convenient and comfortable new office.
Construction Manager Luo Jian, who is in charge of the reconstruction and expansion of the Industrial park, also said: We will make every effort to promote the construction process of Biosis Healing's reconstruction and expansion project in the Industrial Park, put safety production in the first place, plan construction scientifically, complete with guaranteed quality and quantity, and deliver as soon as possible, so that Biosis Healing's colleagues moved into the new park as soon as possible.
Finally, three leaders knocked down the start hammers, and announced the official start of the renovation and expansion project of Biosis Healing Industrial Park. New starting point, new journey. Biosis Healing, the future can be expected!